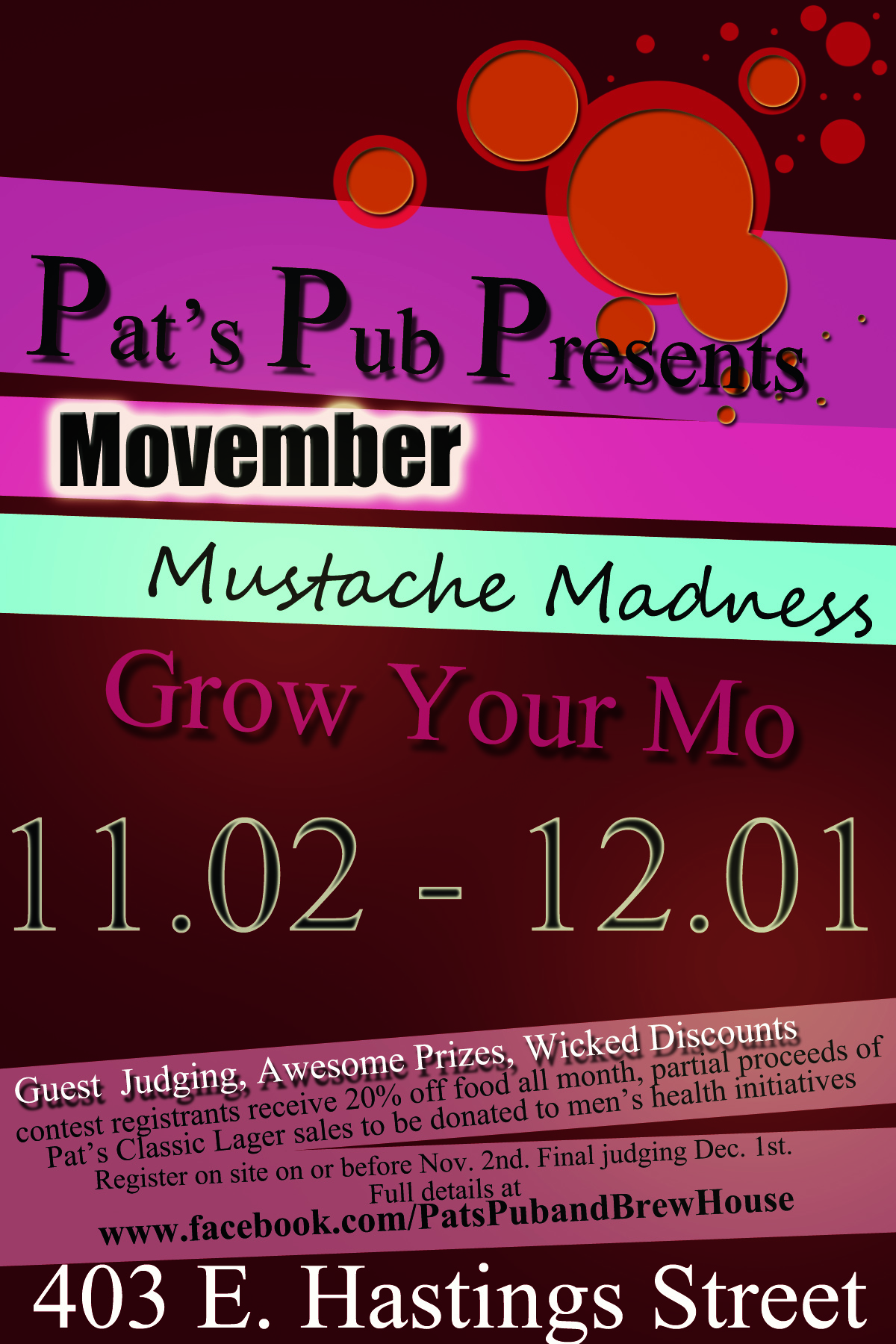 Saturday, December 1st – 7:00 PM
Categories – No Categories
Enter our first ever Movember Moustache Contest to help raise money for and awareness of prostate cancer a
nd other men's health initiatives whilst looking exceptionally suave. Register on or before November 2nd – judging will take place on December 1st in conjunction with our Blues 'N' Brews event (registrants = free cover, guests and groupies = $5) . Prizes will be awarded, music will be played, discounted bevvies will be consumed and hot shaves by donation will be available. Good times will be had by all so sign up before November 2nd! You'll feel good about yourself if you participate in a Movember initiative and you'll get lots of deals and discounts – 20% off food if you register and partial proceeds of Pat's Classic Lager will go to the Movember Campaign! Drink great beer AND contribute to charity, it's a WIN – WIN situation!
Check out our
facebook
event page for full details.
Register:
In Person:
– 403 E. Hastings (bring a clean-shaven pic!), collect your contest registrant discount card
Online:
– movemberatpatspub@gmail.com (upload a clean-shaven pic), then collect your contest registrant discount card later in person.
Moustache Categories:
The Pro Mo – Best overall moustache. Styling aids permitted
Best O'Naturale Mo – Bushy. Think Magnum PI. No aids permitted
Best HandleBar Mo – Think Hulk Hogan. Aids permitted
Best Imperial Mo – Small, bushy, curled upward @ tips. Aids permitted
Best Musketeer Mo – Moustache long & slender. Beard small & pointed. Aids permitted
Best Coiffed Mo – Best Use of styling aids. Creativity counts!! Staches don't fall under other categories.
Email for info: movemberatpatspub@gmail.com
Check out Pat's Pub & Brewhouse facebook Movember Album for Mo category examples!