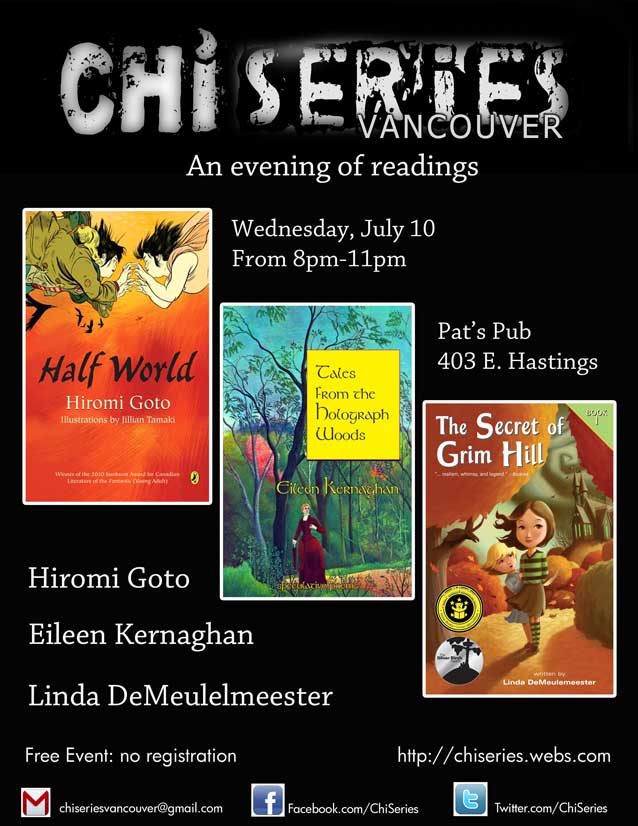 Wednesday, July 10th – 8:00 PM
Categories – No Categories
This installment of the Chi Reading Series will feature: 'Half World' by Hiromi Goto, 'Tales From the Holograph Woods' by Eileen Kernaghan and 'The Secret of Grim Hill' by Linda DeMeulemeester.
8 – 11pm. Free Event
Hiromi Goto's adult novel, Chorus of Mushrooms was the recipient of the regional Commonwealth Writer's Prize Award for best first book as well as co-winner of the Japan-Canada Book Award. Her second adult novel, The Kappa Child, was awarded the James Tiptree Jr. Award. More recently her YA novel, Half World, was winner of the 2010 Sunburst Award and the Carl Brandon Parallax Award and was long-listed for the IMPAC-Dublin Literary Award.
Eileen Kernaghan is a three-time Aurora Award winner, and her YA/teen novel Wild Talent: a Novel of the Supernatural, set London and Paris 1888, was shortlisted for a 2009 Sunburst Award.
Linda DeMeulemeester's novel, The Secret of Grim Hill, was named as one of the top ten "Great books of the year" by the Canadian Toy Testing Council, was reviewed by the Globe and Mail, short listed for the Hackmatack, Red Cedar and Diamond Willow awards, and was the winner of the Ontario Library Association's Silver Birch award.