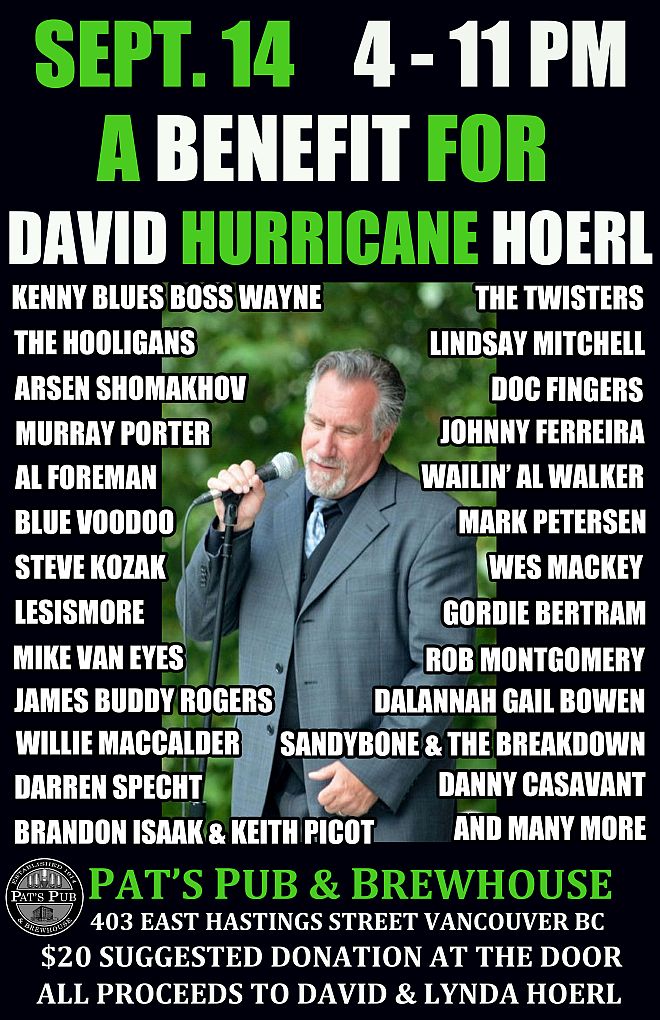 Sunday, September 14th – 4:00 PM
Categories – No Categories
Featuring many members of Vancouver's blues community …
The Blue Voodoo, Gordie Bertram, Dalannah Gail Bowen, Doc Fingers, Johnny Ferreira, Al Foreman, The Hooligans, Brandon Isaak & Keith Picot, Steve Kozak, Wes Mackey, Lesismore, Willie MacCalder , Lindsay Mitchell, Rob Montgomery, Mark Petersen, Murray Porter, James 'Buddy' Rogers, Sandy Bone & the Breakdown, The Arsen Shomakhov Trio, Darren Specht, The Twisters, Michael Van Eyes, Wailin' Al Walker and Kenny Wayne.… and probably more.
Multiple award‐winning musician Dave 'Hurricane' Hoerl is a force to be reckoned with on the North American blues scene. Dave has made Vancouver his home since 1982 and for over three decades and has performed all over the world, most notably as the founding member of Vancouver's legendary jump blues band The Twisters.
On June 24th Dave Hoerl, released his first solo recording, Un‐Twisted. Shortly before the official release, Dave suffered a massive stroke that left him hospitalized and fighting for his life. As with many victims of stroke, his future is uncertain. He is currently under excellent care in hospital and will soon be moved to a long‐term care facility.
4-11pm. Suggested donation at the door will be $20 with all proceeds going to David & Lynda Hoerl