Upcoming Vancouver Events @ Pat's Pub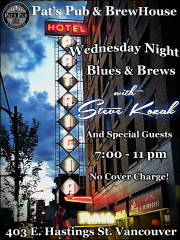 Wednesday, November 25th – 7:00 PM
Hosted by Maple Blues Award winner, Steve Kozak and his WestCoast All-Stars,
featuring special guest performances.
Special: Pulled Pork & 20 oz Pat's Classic Lager ~ $11.50
No Cover.
Saturday, November 28th – 3:00 PM
Lisa Cay Miller
Hot Food. Cool Jazz. No Cover
3 – 7pm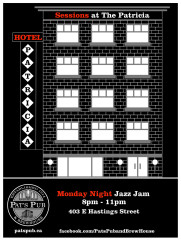 Monday, November 30th – 8:00 PM
The Monday night jazz jam at The Pat brings together many of the finest jazz musicians in the city. Guest musicians join hosts Sharon Minemoto (piano), Phil Boniface, (acoustic bass) and Kristian Braathen, (drums) for a great night of live jazz.
Food specials & $6.50 Roaring Twenties Wine Co at one of the only venues in Vancouver with a grand piano.
Sessions at the Patricia is the destination for live Jazz on Mondays in Vancouver.
8 – 11pm. No Cover
Saturday, December 5th – 3:00 PM
Kevin Elaschuk -Trumpet and Fluglehorn ~ John Paton – Tenor Saxophone
André Lachance –  Electric Guitar ~ Steve Holy – Acoustic  Bass
Joe Poole – Drums
Original compositions by Kevin Elaschuk & some classic 60's Blue Note tunes
with the odd standard mixed in!
Hot Food. Coll Jazz. No Cover
3 – 7pm
Saturday, December 12th – 3:00 PM
Star System Plays Sun Ra
Hot Food. Cool Jazz. No Cover
3 – 7pm
Friday, December 18th – 7:00 PM
Bill Sample on Piano   ~   Rene Worst on Bass   ~   Buff Allen on Drums
Celebrate the release of the Bill Sample Trio's new album Small
available here
7 -10pm
Saturday, December 19th – 3:00 PM
Christmas Jazz with We Three Queens
Hot Food. Cool Jazz. No Cover
3 – 7pm
Saturday, December 26th – 3:00 PM
Back by popular demand! Tom Keenlyside Quartet
Hot Food. Cool Jazz. No Cover
3 – 7pm