Upcoming Vancouver Events @ Pat's Pub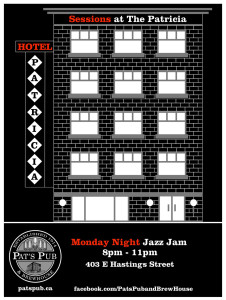 Monday, June 27th – 8:00 PM
The city's longest running jazz jam, Sessions at The Pat brings together many of the finest jazz musicians in the city. Guest musicians join hosts Sharon Minemoto for a great night of live jazz.
Happy Hour specials at one of the only venues in Vancouver with a grand piano.
Sessions at the Patricia is the destination for live Jazz on Mondays in Vancouver.
8 – 11pm. No Cover
Tuesday, June 28th – 7:00 PM
Ingrid Stitt Quartet featuring
Ingrid Stitt, Bernai Arai, Jillian Lebeck and more!
7pm – 11pm. No Cover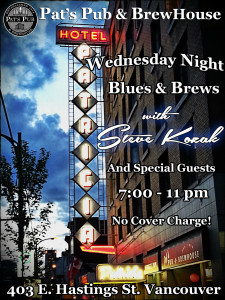 Wednesday, June 29th – 7:00 PM
Hosted by Maple Blues Award winner, Steve Kozak and his WestCoast All-Stars,
with special guest Doc Fingers
No Cover.
Thursday, June 30th – 8:00 PM
Pianist Paul Keeling performs his new album Ancient Lights with a stellar quintet.
Nominated for a Western Canada Music Award, Ancient Lights is a dynamic mix of earthy hard bop and stratospheric luminosity, grooving, soulful, and melodically memorable.
Paul Keeling – piano   ~   Brad Turner – trumpet
Jon Bentley – tenor sax   ~   André Lachance – bass   ~   Bernie Arai – drums
8pm. No Cover
Friday, July 1st – 8:00 PM
The Vancouver Ensemble of Jazz Improvisers – Vancouver's powerhouse big band makes a rare appearance at The Pat.
Get ready for a musical explosion.
Cover charge applies.
Saturday, July 2nd – 3:00 PM
Multi-instrumentalist Brad tuner sits at the piano for this session with his trio
and plays a variety of tunes, including original compositions, in his own sweet way.
Darren Radtke – bass   ~   Bernie Arai – drums   ~   Brad Turner – piano
3-7pm. Hot Food. Cool Jazz. No Cover
Saturday, July 2nd – 8:00 PM
An all-star aggregation takes you on a voyage of musical exploration to (fortunately) charted places.
Campbell Ryga – saxes   ~   Danny Kane – more saxes
Blaine Wikjord – drums   ~   Al Johnston – bass
Hugh Fraser – piano & trombone
8pm.